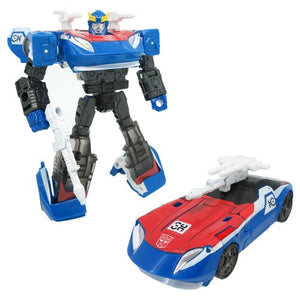 Generations Select - Smokescreen
Exclusive! Transformers Generations Selects bring back favorite characters from across the globe as exciting entrants into the Cybertronian Wars. Big robots join the Siege with this Transformers Generations Selects Deluxe Smokescreen - Exclusive! Autobot car transforms from sports car to a robot with a fist and a blaster.

This special edition Generations Selects WFC-GS06 Smokescreen figure portrays the classic G1 character with a G1-accurate head sculpt. Figure converts to a Cybertronian alt mode in 14 steps, decorated to reveal how Smokescreen would have looked on Cybertron. The paint job incorporates Cybertronian numbers into his classic exterior. The Smokescreen figure comes equipped with a W-45 Acid Pellet Blaster accessory and 2 W-50 Volt-Beam Cannon accessories that can mount on his shoulders or the hood of his vehicle mode.